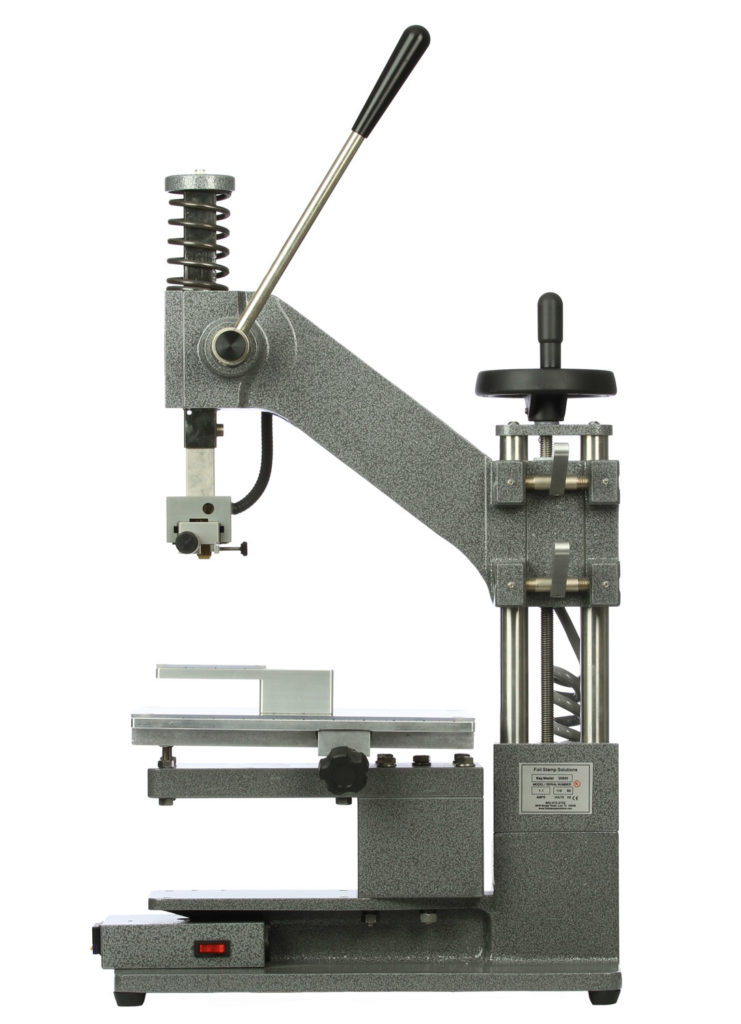 The Bag Master was originally designed to meet the needs of the High Fashion Leather products industry. Typically, these customers need a large adjustable work area with easy and open access to position, locate and stamp their products.
The Bag Master's print head has vertical adjustments up to 9 inches high, making it a perfect choice for placing monograms or names on purses, hand bags, clutches, leather products, tall products, wide, or odd shaped goods with tops, flaps, zippers, or folds.
Features
Large Print Area: A standardized print head that will accept all of our removable type holders.

Versatile Self-Centering Type Holders for monogramming and 3 different size Die holders with a maximum imprint area of 5" x 5".

Adjustable Thermal Heat Controller with LED screen read-out.

500-watt Heater with temperature tolerances of ±1° F. 220-volt conversion available on request.

10″ Throat Depth: Will print to the center of a 20″ product.

Adjustable Head Height: This machine can imprint on any product from 0″ to 9″ tall.

Large 14″ x 14″ product work plate with 3-Way adjustment to make product positioning accurate and easy.

Removable elevated bag fixture for monogramming hand bags, boxes and case-type goods.

The Book Master's gauge bar has a movable back stop with an adjustable side gauge for fast and easy positioning to center.

Warm up time is under 5 minutes.


Weighs less than 72 pounds.

Foot Print:  16" W x 19" L x 24" H

Fully warranted for 3 years (Extended warranty available).
100% made in the U.S.A.
All machines are available as a stand-alone machine or as complete packages to meet your specific application. Our customer service experts will help you choose the most appropriate Centering Attachment Fixtures, Type or Die Holders, Type, Spacers, and Foil.
For more information on the Bag Master and its features, or if you would like a quote on this machine, contact us via phone at 1-877-343-4321, via email at customerservice@hotstampsupply.com, or by filling out our Contact Form.
Gallery