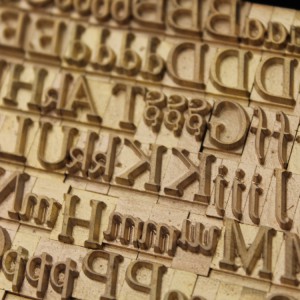 Brass type is considered the most superior type for several reasons. It is the perfect type for albums, books, or leather products.
Brass type is made from hardened industrial solid brass stock. This type is manufactured on automated CNC machines, a process which gives unlimited ability to control the depth of character, precise tolerances, and availability of styles.
The character depth of this type is close to 1/4 inch deep (over 3 times the depth of standard type, and can be custom made at any depth). This depth allows for a superior clearance between the type body and the substrate. The clearance completely eliminate type error when printing albums, leather, and soft or cushion like products.
Brass conducts heat more evenly and rapidly, allowing for clean crisp images at lower temperatures. Brass type is also the hardest of the three kinds of type. Therefore, it will provide decades of use.
Brass type is the most expensive of all hot stamping type offerings but most album and leather manufacturers believe the benefits of brass type far outweigh the cost. Font schemes are 200 pieces and the font count can be customized.
For price inquiries, please call us toll-free at 1-813-265-8958 or fill out our Contact Form.
BRASS TYPE PRICES
Font Point
200 Piece
Spacer Set
After-Order Extra Letters
12/14pt
18pt
24pt
30pt
36pt
48pt
60pt
72pt