You see the products of foil stamping in various settings every day, whether you realize it or not. It might be the glossy writing on a chocolate bar wrapper, an interesting design on an invitation or greeting card, or as an accent on wrapping paper or art prints. Despite the popularity of these products the means by which they are produced is not well known.
"What is Foil Stamping?"
In the 19th century, hot stamping became a popular method of applying gold tooling or embossing in book printing. Originally used on leather and paper, the method became a popular means of gold personalization and monograming on a wide variety of surfaces.
Today, the process of foil stamping products has become a staple of selling and promoting goods and merchandise. But how does it work? What does it take to make the perfect print?
Here's what we think.
Process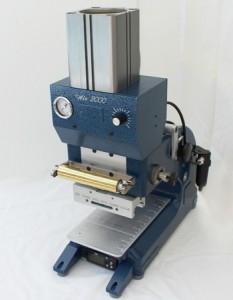 Traditional hot foil printing machines, also referred to as hot stamping machines, use either a metal printing plate (die) or traditional printing type in the form of movable loose letters to hot stamp the required image and text onto the product. The process begins with the production of a printing plate (die), or the setting of type, generally used for initials, names or short areas of text.
A die or line of type is placed in the heated print head of a hot stamping machine. The product to be stamped is placed beneath the heated print head. A metallized or pigment foil is inserted between the two. The die presses down on top of the foil. Using a combination of heat, pressure and dwell time, the design is transferred from the die or type, through the foil and onto the product. The dry foil used is impressed into the surface of the product, leaving an exact foil image on the substrate. The entire hot foil printing cycle takes less than a second per item (excluding the time to locate and remove the item from the machine
This process is fast, professionally crisp, and inexpensive. Personalization with this process adds value to most any product. Foiling or debossing also provides an elegant appearance that creates a huge demand.
What kind of equipment is needed for a Foil Stamping business?
Among the commonly used tools in hot stamping are machines, dies, type, and foil.
Different hot stamping machines serve different purposes, but the most cost effective and versatile hot stamping machines are simple up-and-down vertical table top presses. There are many kinds of foil machines from small and mid- sized table top units to large industrial units. Costs for table top machines range from $1800.00 to $5,000. Machines come in either manual or air operated versions.
Industrial machines can cost $40,000 to several hundred thousand. Machine choice depends on the specific needs of your business.
You should consider general size of the products you want to foil stamp and the production rate that you may need for your jobs. If your size is in the range of an 10" x 10" product with a production rate of 100 to 2000 pieces per hour then the table top units are perfect for your application If you send an email or call , we can discuss your specific needs and recommend the best machine for you and your business.
Materials
TYPE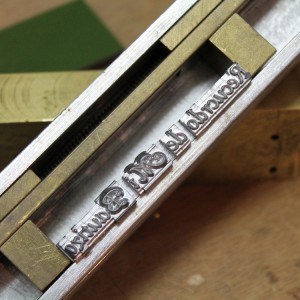 Type comes in a set of movable alpha-numeric characters, A-Z, in both capital and lower case renditions. A set normally includes numbers 0-9 and punctuation as well. A traditional set will have 200-225 pieces of total type characters.
There are 3 different kinds of type used with foil stamping.
Foundry type is made of a cast metal composite of tin, antimony, and trace metals. It is a softest and most shallow faced type. Cost and availability of styles make this type the most popular. However it comes with limitations. It wears rapidly and will not make a deep impression into some substrates.
Hard Foundry type is a harder, deeper faced type, and about 50% higher in cost than Foundry type. Hard Foundry type is a cast metal product made of Zinc and is much harder than traditional Foundry. The character depth is also much deeper. However there are limitations to style; Hard Foundry type has less than one-third of the Foundry styles catalog.
Brass type is the hardest and best conductor of heat of all three kinds of type. Brass type has the deepest character face. Styles can be custom made. Brass type is either hand engraved or machined on a CNC machine. The cost of the brass type is expensive, however, brass users say the quality results outweigh the higher cost.
Type Setting
Type is used to create names and monograms for personalization. It is also used to create lines of text for events, awards, or general printing needs.
Once the copy is determined, it is ready for "type setting". The letters are placed in a "chase" or type holder (as pictured above) to secure the line or lines of type. After filling the copy order, the type holder is placed into the heated head and ready for foil stamping.
Dies
Dies may be made of metal (magnesium or brass), silicone rubber, or polymer and they may be shaped directly or cast. They can carry exact levels of original design detail to be transferred to the surface. Most foil stamping requires a flat surface but silicone dies may be shaped to accommodate irregularities in the surface.
Hot Stamping Foils
Hot stamping foil is a dry ink used with a Hot Stamping Machine. Heat and pressure is used to release the foil color onto the substrate. The color comes from metalized aluminum oxide powder that is sprayed on an acetate film carrier. The carrier consists of 3 layers an adhesive layer, the color layer, and a final varnish release layer.
---
Using Foil in your projects, documents, or books can provide you with amazing designs and prints in various colors and dimensions. Foil is can be fun yet elegant depending on the application or material. Foil expands your creativity with a new pallet of colors and textures that are not available in standard printing arts.