Fuser foil is a great way to add beautiful foil to your already printed material.  Through the process of foil lamination, fuser foils allow your business to produce impressive and stylish foil impriting without type or dies. These foils can only be used with our Auto-Foiling Machine, RF-1200.
Fuser foil attaches to the toner of your laser-printed product, revolutionarily altering the design process. All graphic images and text is created in your computer. Imagine the time saved if you could provide a foil stamped proof for your design client in a matter of minutes, while they watch.
Our Fuser Foils are categorized into 5 types: Metallics, Glitters, Pigments, Solid Pattern Holographic, and Transparent Pattern Holographic. We have a large selection of colors and styles. Prices listed below.
| FOIL PRICING | | Cost Per Roll |
| --- | --- | --- |
| Foil Color | 6″ x 500ft | 12″ x 500ft |
| Metallics | n/a | $72.00 |
| Glitters | $175.00 | $248.00 |
| Pigments | $97.00 | $168.00 |
| Solid Pattern Holographic | $185.00 | $288.00 |
| Transparent Pattern Holographic | $195.00 | $292.00 |
Metallic Fuser Foil
Gloss Gold
Matte Gold
Gloss Silver
Matte Silver
Gloss Red
Gloss Red
Orange
Pink
Hot Pink
Purple
Electric Blue
Turquoise
Light Blue
Green
Light Green
Light Gold, Bright Red, Dark Blue, Light Purple
Copper
More Colors Available
Glitter Fuser Foil
| | | | |
| --- | --- | --- | --- |
| | | | |
| Glitter Gold | Glitter Silver | Glitter Red | Glitter Purple |
Pigment Fuser Foil
Red
Orange
Yellow
Beige
White
Green
Blue
Purple
Pink
Solid Pattern Holographic Fuser Foil
Rainbow
Oil Slick
Mirage
Spin
Cracked Ice
Mesh, Pixie Dust, Shattered Glass, Sparkle, Bubbles 
Hearts
Security
Scales
More Options Available
Transparent Pattern Holographic Foil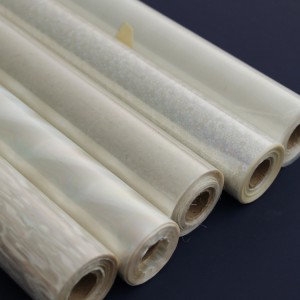 We also offer transparent pattern foils much like the solid patterns listed above. We offer 9 styles of transparent pattern foils: Security, Rainbow, Pixie Dust, Glitters, Bubbles, Shimmering Water, Mirage, Spin, and Cracked Ice.
For more information on all our fuser foils, contact us at 1-813-265-8958, via email at info@foilstampsolutions.com, or by filling out our Contact Form with your questions or concerns.