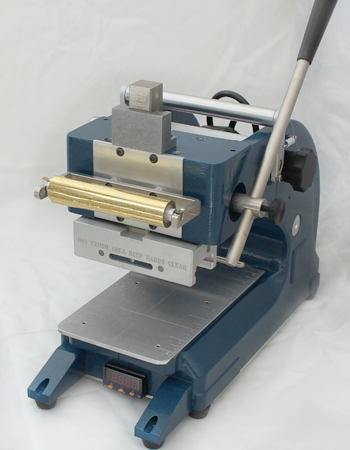 The Manual 2000 is a hand-operated machine ideal for small to medium-sized jobs. You can use the Manual 2000 to print on paper and stationery products, ribbon, pencils, napkins, greeting cards, portfolios, leather goods, wood products, Mylar balloons, plastic and more. 
Features
Large Imprint Area: Capable of printing a full 5.5″ x 5″ area.

7 1/2″ throat depth: will print to the center of a 12″ book.

Full 5″ print width: every line can be up to 5″ wide.

Manually operated with power lever action.

Automatic Foil Advance allows foil pull adjustments from 0-6.0″ feed per stroke.

Fast and convenient foil loading for color change.

Easy disposal of used foil through rear of machine.

Up to 800-1200 imprint cycles per hour.

Digital piece counter options available.

Warm up time under 5 minutes.

User-friendly accessories, all machined to perfect square using precision CNC tolerance.

Fully warranted for 3 years (extended warranty available).
100% made in the U.S.A.
All machines are available as a stand-alone machine or as complete packages to meet your specific application. Our customer service experts will help you choose the most appropriate Centering Attachment Fixtures, Type or Die Holders, Type, Spacers, and Foil.
For more information on the Manual 2000 and its features, or if you would like a quote on this machine, contact us via phone at 1-877-343-4321, via email at customerservice@hotstampsupply.com, or by filling out our Contact Form.
Gallery