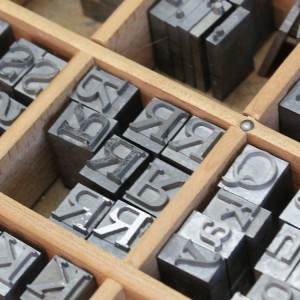 Hard Foundry Type, commonly referred to as Zinc or Service Type, is similar to Standard Foundry type only it is harder and deeper. This type is also cast but the metal mixture of zinc, antimony, and copper (no lead) makes this type more durable and longer lasting than standard foundry type.
Font styles are somewhat limited with Hard Foundry type. Offerings only include 15 styles including Times New Roman, News Gothic, Gothic Light, and Park Avenue.
Hard Foundry type font schemes (character count) are normally 200-225 pieces which includes capitals, lowercase, numbers, and punctuation.
The face depth is 30% deeper than standard Foundry type, and lends itself better to album stamping and leather debossing.
Hard Foundry type is our mid-level type as it is more expensive than standard Foundry type but not as expensive as Brass type (see price chart below).
If you have any questions, would like more information on Hard Foundry Type, or would like to place an order you can contact us toll free at 1-813-265-8958 or by filling out our Contact Form.
FOUNDRY TYPE PRICES
Font Point
200 Piece
Spacer Set
12/18pt
$430.00
$90.00
24pt
$450.00
$95.00
36pt
$540.00
$110.00
Fonts
Samples