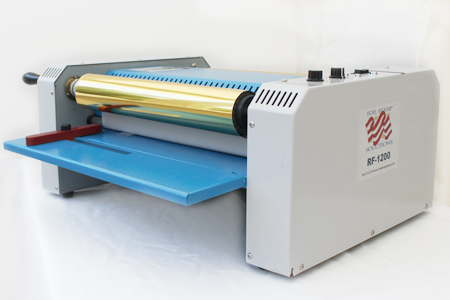 At last! Foil Stamping without dies or metal type setting.
Foil application is fast and easy with no need for expensive dies or time-consuming setup with type. The RF-1200 is perfect and convenient for small or large orders from 1-1000.
Produce beautiful foil stamped items, including: Advertising media, invitations, announcements, award certificates, gift tags, business cards, holiday cards, menus, bookmarks, security passes, buttons, and much more.
Everything can be done in-house. Simply create any graphic image or text document with your computer, print it through your laser printer or copy machine, and run the document through the RF-1200 to create a beautiful foil stamped product.
With over 30 foil colors and 15 exciting holographic foils, there is no limit to the special effects printing you can achieve for your customers!
Click here to see the RF-1200 in action.
For more information on the RF-1200 and its features, or to get a quote or put in an order, contact us at 1-877-343-4321, via email at customerservice@hotstampsupply.com, or by filling out our Contact Form.
Features
Solid steel frame and control box.
Powder coated finish.
12.5″ wide paper feed.
Automated rewind.
Forward and reverse foil travel.
Dual-clutch mechanism to keep foil tight and free of wrinkles.
Automatic impression control.
Electronic variable speed and temperature control with LED display.
4 internal heat rollers, 60 Hz single phase, 110 or 220 volt.
Gallery