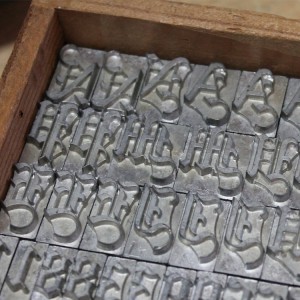 Foundry type, also called Hot Stamp Type and Monotype is standard foil stamping type. It is a cast metal composite containing lead, tin, and antimony.  The lead factor makes this type the softest of the three, thus prone to early wear and flattening of letters, especially with hard substrate. However, Foundry type is also the least expensive of the 3 type offerings.
Foundry type has the widest selection of styles (more than 75 styles and sizes).  It has been used for decades on a variety of substrates, especially paper goods. Foundry type is best suited for napkins, stationary, ribbon, and some plastics. However, the face depth on this type is normally very shallow, making it a poor choice for albums or leather goods.
Foundry type font schemes (character count) are normally 200-225 pieces which includes capitals, lowercase, numbers, and punctuations.
If you have any questions, would like more information on Foundry Type, or would like to place an order you can contact us at 1-813-265-8958 or by filling out our Contact Form.
Please browse our type styles at the bottom of the page. If you would like a type catalog, please contact us and we will be more than happy to fulfill your request.
FOUNDRY TYPE PRICES
Font Point
200 Piece
Spacer Set
12/18pt
$260.00
$50.00
24pt
$290.00
$55.00
36pt
$320.00
$60.00
48pt
$400.00
$65.00
60/72pt
$425.00
$70.00
Monograms
$495.00
n/a
Additional Items
Price
Line Dividers Set
$50.00
EZ Speed Lock
$200.00
EZ Speed Lock Wrench
$50.00
Fonts
| Font Name | Font Points Available | Font Name | Font Points Available |
| --- | --- | --- | --- |
| Bank Gothic | 18/24/36 | Bernard Fashion | 18 |
| Bookman | 14/18 | Broadway | 18/36 |
| Brush Script | 36/48 | Century Italic | 36 |
| Cheltenham | 36/48 | Cheltenham Narrow | 18/24/36 |
| Eden Light | 36 | Empire | 36/48/72 |
| Engravers Bold | 24 | Flash Bold | 48 |
| Florentine | 36 | Gallia | 36 |
| Goudy Cursive | 14/18/24/36 | Greeting Monotone | 18 |
| Italian Old Style | 18 | Impact Outline | 30 |
| Lydian Italic | 18/24 | Mayfair | 24/48 |
| Mayfair Cursive | 36 | Murray Hill Bold | 18 |
| News Gothic | 10/18/24 | News Gothic Bold | 14/18 |
| News Gothic Condensed | 18/24 | Parisian | 18 |
| Park Avenue | 18/36 | Penn Bold | 18 |
| Pepita | 36 | Parkway | 36 |
| Stellar Bold | 36/48 | Stymie Light | 24/48 |
| Style Script | 72 | Times Roman | 18/24/36 |
Monograms
| Style Name | Point Sizes Available | Style Name | Point Sizes Available |
| --- | --- | --- | --- |
| Elegant Initials | 48/72 | Oval Monograms | 60 |
| Ransom Initials | 18 | Engravers Bold | 24 |
| Stymie Caps | 48/72 | Broadway Caps | 36 |